Announcements
---
Statement from U.S. Census Bureau Director Steven Dillingham: Delivering a Complete and Accurate 2020 Census Count
August 3, 2020: The U.S. Census Bureau continues to evaluate its operational plans to collect and process 2020 Census data. Today, we are announcing updates to our plan that will include enumerator awards and the hiring of more employees to accelerate the completion of data collection and apportionment counts by our statutory deadline of December 31, 2020, as required by law and directed by the Secretary of Commerce.
---
2020 Census Takers to Start Follow Up With Nonresponding Households in Select Locations
July 15, 2020: The U.S. Census Bureau announced that it will begin following up with households in select areas that have not yet responded to the 2020 Census.
---
Census takers to start follow up with nonresponding households in Southern Indiana the week of July 20
July 8, 2020: The U.S. Census Bureau announced that it will begin following up in select areas with households that have not yet responded to the 2020 Census.
---
The Census Bureau has released an updated timeline to #2020Census operations due to the COVID-19 delay. It is available here:
April 16, 2020: The 2020 Census is underway and more households across America are responding every day. Online, phone, and mailed self-responses will continue throughout the data collection process. In light of the COVID-19 outbreak, the U.S. Census Bureau is adjusting 2020 Census operations.
---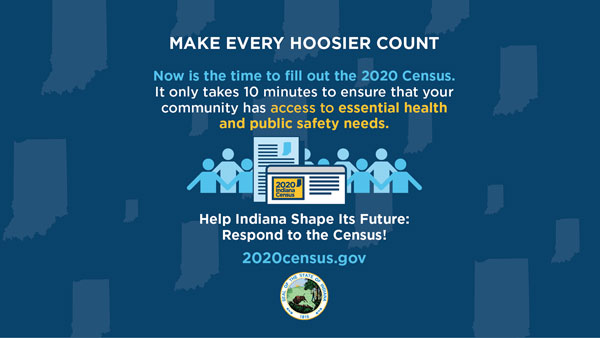 ---
Census Bureau Update on 2020 Census Field Operations
MAR 28, 2020: Based on continuing assessments of guidance from federal, state and local health authorities, the U.S. Census Bureau is suspending 2020 Census field operations for two additional weeks to April 15. The Census Bureau is taking this step to help protect the health and safety of the American public, Census Bureau employees, and everyone who will go through the hiring process for temporary census taker positions.
---
2020 Census Operational Adjustments Due to Covid-19
MAR 20, 2020: As a follow up from a 2020 Census news briefing held on Friday, March 20, please see the following links to an abbreviated and full-text document which highlights 2020 Census operational adjustments due to COVID-19.
Additionally, since many college students have returned home, please see the following video, "2020 Census: What College Students Need to Know to be Counted in the Right Place," with key information for parents, families, students and administrators. We hope you will share this widely.
For a complete list of resources from the news briefing, visit the online press kit.
---
Census Bureau Modifying Operations in Light of COVID-19
MAR 17, 2020: The U.S. Census Bureau continues to carefully monitor the coronavirus (COVID-19) situation and follow the guidance of federal, state and local health authorities. For the latest operational updates, see the statement on modifying 2020 Census operations.
---
Where are College Students Counted for the 2020 Census?
MAR 13, 2020: College students (and parents): Students should still use their college address when responding to Census 2020 even if the campus is closed due to COVID-19 .
---
2020 Census Invitations Arrive March 12-20
MAR. 6, 2020: Ninety-five percent or about 143 million households in the country will receive an initial invitation to respond to the 2020 Census in their mailboxes between March 12 and 20. The U.S. Census Bureau released informational copies today of the invitations, the enclosed materials, and the subsequent reminders households will receive. These materials can help the public know what to expect and avoid potential scams.
---
READY TO HIRE: Census Bureau Reaches Highest Recruiting Goals, Begins Selections for Census Takers
MAR 04, 2020: The U.S. Census Bureau is beginning its selection process to hire up to 500,000 census takers for the 2020 Census.
---
Want to know more about the 2020 U.S. census?
FEB 24, 2020:Take your knowledge to the next level with a short email mini-course from Pew Research Center.
---
Less Than One Month Until U.S. Households Receive 2020 Census Invitations
FEB. 13, 2020: Between March 12 and March 20, invitations to participate in the 2020 Census will start arriving in households across the country. "The Census Bureau is ready for the nation to respond next month," said Census Bureau Director Dr. Steven Dillingham. "Millions of Americans are applying for 2020 Census jobs, more than 270,000 local and national organizations are engaged, and in less than 30 days the majority of U.S. households will receive an invitation to respond to help ensure that every person in the U.S. is counted."
---
Census 2020 Family Nights Grants are Available
FEB. 11, 2020: 2020 is here, and that means we have a new opportunity to improve the quality of life for children in Indiana by making sure they are all counted in the Census! Thanks to a generous grant from Partners for America's Children, MCCOY is offering $350 to 12 organizations around the state to host a Family Census Night, with food, fun, and help filling out the Census. Please complete the application and submit by Friday February 28th for your chance to help us get out the count!
---
Census Bureau to Host 2020 Census Interfaith Partner Summit
FEB. 11, 2020: The U.S. Census Bureau will host an Interfaith Partner Summit with faith-based leaders from across the nation for a moderated panel discussion about the 2020 Census. Leaders of faith are trusted voices within their communities and have been key partners in previous census counts helping to ensure an accurate and complete count of their congregations. The summit will include leaders of diverse religious traditions and practices and faith-based community organizations from across the country. Learn More
---
Census Bureau Hosts Festival to Ensure All Children Are Counted
FEB. 10, 2020: The U.S. Census Bureau and the Federation of Pediatric Organizations are partnering to reduce the undercount of children. Together they will host a free event for children at the Great Lakes Science Center in Cleveland. The news conference and event will focus on promoting the importance of counting young children during the 2020 Census. Learn More
---
U.S. Census Bureau's Local / Regional Partnership Specialists for Indiana Contact and Coverage Information
FEB. 06, 2020: Here is a newly created contact list and map of the U.S. Census Bureau's regional partnership specialists for Indiana.
---
Census Office Open House and Recruiting Blitz is Saturday, February 1 at 4 Indiana Locations!
JAN. 30, 2020: You're invited to be a part of this historic Census job recruitment push and learn about our exciting Census Initiatives to count everyone. Meet and greet our elected officials and community partners who are helping make it all happen. Job seekers can fill out applications on the spot. Locations are Evansville, IN, Lake County, IN, Fort Wayne, IN, and Indianapolis, IN.
---
Census Bureau Releases 2020 Census Response Rate Challenge Toolkit
JAN. 27, 2020: The U.S. Census Bureau has released a downloadable toolkit geared toward helping local elected officials and community leaders plan a Response Rate Challenge for the 2020 Census. The new toolkit encourages leaders in every town, city and state to challenge their communities to improve upon their 2010 Census response rates in the upcoming national census.
---
2020 Census Facebook interview with Katie Springer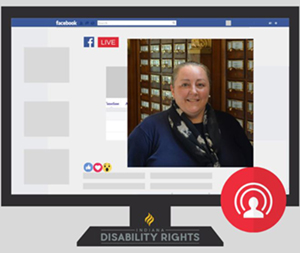 JAN. 9, 2020:
In Friday's 2020 Census Facebook interview with Katie Springer, member of Indiana's Census Squad, we're counting on you for the 2020 Census! We'll answer basic questions about the census, including a timeline, how we respond to the census, why it's important for people with disabilities to respond, and how the Census Bureau keeps your information secure and confidential.
10AM Friday, January 10, 2020
https://www.facebook.com/IndianaDisabilityRights/
---
Help Kids Count in the 2020 Census Webinar is now available
DEC. 11, 2019:We celebrated Indiana's birthday, December 11th, at the State House with the Geography Educators' Network of Indiana (GENI) and 4th graders from across Indiana.
We learned about latitude and longitude on the giant floor map of Indiana. The goal of the 2020 Census is to count everyone, including kids, at one time, in one place.
What you may not know, however, is that children get undercounted in the census! This makes it especially important that we count children under 5 in the 2020 Census. This webinar will give you an update on the undercounted areas of the state and focus on K-12 resources that can help you promote the 2020 Census in your learning community.
---
Census Bureau Announces Areas to Receive 2020 Census Paper Questionnaires First, And Areas to Receive Bilingual Invitations
NOV. 18, 2019 : The U.S. Census Bureau today released the Mail Contact Strategies Viewer showing how the country will be asked to respond to the 2020 Census. Nearly every household will be invited to respond online, by phone or by mail to the census starting in mid-March 2020. Most areas—about three of every four households—will receive an invitation to respond online (or by phone), while the other households will receive a paper questionnaire along with an invitation to respond online. Read more.
---
October 22 is Apply to Be a Census Taker Day!
October 16, 2019: It is a special recruiting day to spotlight the need to hire folks throughout Indiana to help ensure Indiana gets a complete and accurate count. There are less than 170 days left before Census Day, April 1, 2020. By joining the Census, people can make a difference right in their own communities – to be sure everyone is counted once and in the right place. It's easy – just go to https://2020census.gov/en/jobs
---
Upcoming Census 2020 Presentation at Indiana University Wells Library
October 8, 2019: BLOOMINGTON— Please join us at Wells Library, room E159 on Tuesday 10/8 from 1:30PM to 2:30PM for a presentation on the upcoming Census 2020. Katie Springer, librarian from the Indiana State Data Center, will be speaking about the Census, timeline of when data will be available, changes happening, as well as a little bit about the new Census Bureau Data Tool site​.​​​
---
The Indiana State Census Complete Count kickoff meeting
August 19, 2019
: Indiana's Census 2020 Complete Count Committee kickoff meeting was held on Monday, August 19, 2019, at 1 p.m. ET in the Indiana Government Center South Auditorium. The Census 2020 Complete Count Committee will be staffed by the Indiana Department of Administration. The purpose of the meeting is to continue coordinating the state's outreach efforts to encourage all Hoosiers to answer the census. Meeting speakers included Marilyn Sanders, regional director of the Chicago Census Bureau office and Carol Rogers, liaison to the Bureau. An accurate census count is vital to obtain federal funding for economic development, public health, education, housing and research, as well as to maintain Indiana's representation in the U.S. House of Representatives.
---
Lt. Governor Suzanne Crouch to Chair Indiana's 2020 Census Committee
August 6, 2019: INDIANAPOLIS—Today Governor Eric J. Holcomb announced that Lt. Governor Suzanne Crouch would serve as the chair of Indiana's Census 2020 Complete Count Committee.
"Indiana's active participation in Census 2020 is critical for the continued growth and success of our state," Holcomb said. "With Lt. Gov. Crouch leading the charge, I am confident we will work hard to reach Hoosiers in every corner of the state to encourage their participation."
"Over the past year, Indiana has worked diligently to prepare for Census 2020. The State and many communities throughout Indiana have participated in multiple technical programs to ensure the Census Bureau has an accurate address list. These technical programs include the Local Update of Census Addresses (LUCA) and just recently, the Count Review program. We have now assembled a statewide coalition of stakeholders, including community organizations, local governments, churches, and other groups," Lt. Gov. Crouch said. "This month, we will kick off the public-facing campaign and add additional state and community volunteers to our network."
---
Please join us for a WebEx presentation: LUCA Training Workshop
February 12, 2018: The Chicago Regional geography staff, under the direction of Marilyn A. Sanders, Regional Director, welcomes this opportunity to invite you to attend a 2020 LUCA training workshop via webinar. This workshop will be led by one of our trained geographers, who will be able to assist and support you throughout the LUCA process. We offer workshop webinars for governments throughout our eight-state region, which includes Arkansas, Illinois, Indiana, Iowa, Michigan, Minnesota, Missouri, and Wisconsin.

This WebEx is a free online training opportunity that requires access to the internet for the video portion and access to a touch-tone phone for audio.
Each webinar will cover Census Bureau definitions for housing units, group quarters, city-style and non-city-style addresses; developing your review strategy; setting up your materials; conducting your review; and submitting your edits.
In addition, our LUCA website, https://www.census.gov/programs-surveys/decennial-census/about/luca.html offers training materials for those wishing to "self-train".
You may receive multiple invitations to LUCA training sessions.You and your colleagues may attend as few or as many sessions as you wish. However, due to webinar and phone line limits, each person attending a webinar must register individually. Please select a session below and register online to attend. If registration is full, please select an alternate session. All times listed below are Central Time.