Announcements
---
A Census Reminder from the Town of Plainfield Town Council (Facebook video)
September 9, 2020: The #2020Census informs funding for the services that keeps our community safe and prepared. Complete the Census today!
---
Statement from U.S. Census Bureau Director Steven Dillingham: Delivering a Complete and Accurate 2020 Census Count
August 3, 2020: The U.S. Census Bureau continues to evaluate its operational plans to collect and process 2020 Census data. Today, we are announcing updates to our plan that will include enumerator awards and the hiring of more employees to accelerate the completion of data collection and apportionment counts by our statutory deadline of December 31, 2020, as required by law and directed by the Secretary of Commerce.
---
Census takers to start follow up with nonresponding households in Southern Indiana the week of July 20
July 8, 2020: The U.S. Census Bureau announced that it will begin following up in select areas with households that have not yet responded to the 2020 Census.
---
The Census Bureau has released an updated timeline to 2020 Census operations due to the COVID-19 delay
April 16, 2020:The 2020 Census is underway and more households across America are responding every day. Online, phone, and mailed self-responses will continue throughout the data collection process. In light of the COVID-19 outbreak, the U.S. Census Bureau is adjusting 2020 Census operations.
---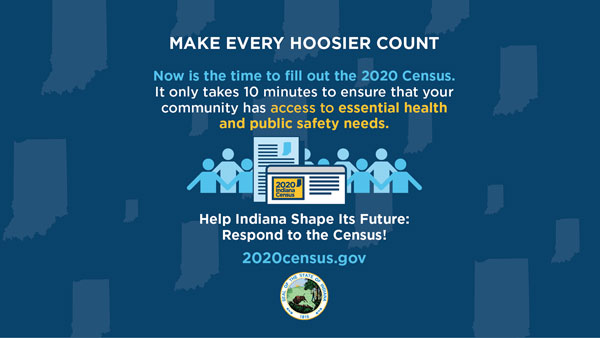 ---
---
After being adjusted in April, the timeline for Census 2020 counting changed again in August and, as of October, is still the subject of a legal fight. See "Census cuts all counting efforts short by a month" (NPR, Aug 3), as well as coverage of the ensuing legal battle.

---
An accurate census count is vital to obtain federal funding for:

Economic
Development

Public Health

Education

Political Power

Housing

Research