Announcements
Want to know more about the 2020 U.S. census?
FEB 24, 2020:Take your knowledge to the next level with a short email mini-course from Pew Research Center.
---
Less Than One Month Until U.S. Households Receive 2020 Census Invitations
FEB. 13, 2020: Between March 12 and March 20, invitations to participate in the 2020 Census will start arriving in households across the country. "The Census Bureau is ready for the nation to respond next month," said Census Bureau Director Dr. Steven Dillingham. "Millions of Americans are applying for 2020 Census jobs, more than 270,000 local and national organizations are engaged, and in less than 30 days the majority of U.S. households will receive an invitation to respond to help ensure that every person in the U.S. is counted."
---
Census 2020 Family Nights Grants are Available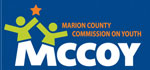 FEB. 11, 2020: 2020 is here, and that means we have a new opportunity to improve the quality of life for children in Indiana by making sure they are all counted in the Census! Thanks to a generous grant from Partners for America's Children, MCCOY is offering $350 to 12 organizations around the state to host a Family Census Night, with food, fun, and help filling out the Census. Please complete the application and submit by Friday February 28th for your chance to help us get out the count!
---
Census Bureau to Host 2020 Census Interfaith Partner Summit
FEB. 11, 2020: The U.S. Census Bureau will host an Interfaith Partner Summit with faith-based leaders from across the nation for a moderated panel discussion about the 2020 Census. Leaders of faith are trusted voices within their communities and have been key partners in previous census counts helping to ensure an accurate and complete count of their congregations. The summit will include leaders of diverse religious traditions and practices and faith-based community organizations from across the country. Learn More